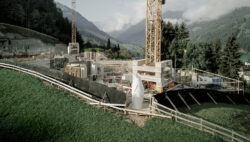 "THE THRONE"
BUILT USING UPCYCLED PLASTIC WASTE
A solution to eradicate plastic waste – transforming it into a material that can be used in construction – has been realized in the creation of a portable toilet by to.org Creative Activists, led by CEO and co-founder Nachson Mimran.
United in a shared goal to drive solutions to Earth's most pressing social and environmental challenges, to.org collaborated with design studio Nagami to 3D print a portable toilet dubbed The Throne using discarded plastic medical equipment from European hospitals. The portable toilet goes further in its realization of a circular economy by composting the waste produced by The Throne's visitors, and using this compost locally.
"Our treatment of waste, both human and artificial, has a profound impact on the future of humanity and our planet. Since the 1950s roughly 8.3 billion metric tonnes of plastic has been produced, and only around 9% of this has been recycled; the remainder have been incinerated, piled into landfills, or dumped in our oceans."
Nachson Mimran, CEO and co-founder of to.org
Over the summer of 2021, The Throne was 3D printed in the Nagami studio in Ávila, Spain, and shipped to its current location, to be used on a construction site in the Swiss Alps. The to.org team hopes to encourage additive manufacturing firms to share their knowledge and accelerate the use of these machines worldwide. By putting these technologies in the hands of local communities, vital objects, tools and constructions can be built, innovation can be shared fairly and the carbon footprint created by logistics and shipping of these products will be greatly reduced.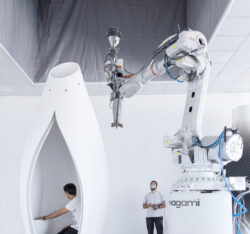 "The 3D printed Throne has been an incredible challenge for us, working with mechanics, sliding doors and off-the-shelf products such as a separation toilet,"
Manuel Jiménez García, CEO and co-founder of Nagami