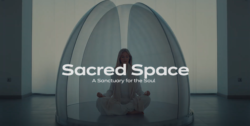 Sacred Space
"A Sanctuary for the Soul"
Built using recycled plastic and using light sound therapy and bio-feedback to reset equilibrium and heart coherence.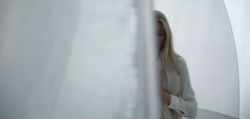 Purposefully built to reduce stress and restore mind body balance Sacred Space by Shelley Lewis and designed by Ross Lovegrove offers a refuge from the constant influx of noise on the senses.
A Modern Day Sacred Space helps us find authentic presence in a culture of busyness.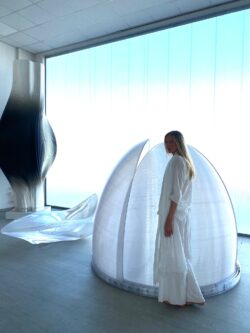 Sacred Spaces for 21st Century Living
Paying homage to the liturgical sacred space's of the past – this evolution of a sacred space is designed to helps us deal with the real social challenges we now face as a culture: Burnout, fatigue, disconnection, overwhelm and addiction.
Sacred Space represents the new Wellbeing Spaces of the future. Clients include forward-thinking urban development projects, spa and hospitality venues, private dwellings and cultural art centres.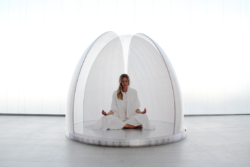 "The root cause of mental distress in the world today is that we have lost our connection to Self. We need spaces that we can enter to aid in our reconnection to Self."
Shelley Lewis
FOR ENQUIRIES
To enquire about purchasing a Sacred Space contact: connect@shelleylewis.com
By:
Shelley Lewis
Designed by:
Ross Lovegrove
Robotic 3D printing and fabrication:
Nagami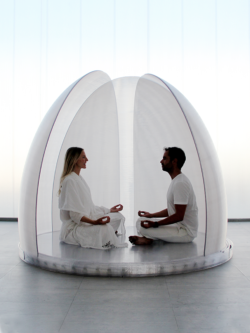 "A Modern Day Sacred Space is the 'opposing force' in our contemporary culture and an essential element in human healing."
Ross Lovegrove