An installation by Niccolo Casas in collaboration with the Italian Pavilion at the XVII International Architecture Exhibition of the Biennale di Venezia.
Plasticity
Plasticity -designed by Niccolo Casas in collaboration with Parley Ocean Plastic®- is a 3.6 metre high 3D printed sculpture created from recycled plastic waste recovered from remote islands, waters and coastlines by Parley's Global Cleanup Network.
Curated by architect and academic Alessandro Melis, the installation is part of the Biennale di Venezia's "Resilient Communities", in response to the annual event's statement that invites reflection on climate change.
The term "Plasticity" comes from the union of "plastic" and "sustainability" and is intended to highlight the notions of transformation and conversion. In architecture, as in art, the term refers to the quality of a work of art to articulate itself freely in space, interpreting "Plasticity" as the ability of a material to transform itself by acquiring new characteristics and dimensions.
Plasticity becomes a demonstration that disposable plastics can be transformed into useful material. In this case, they give life to a light and complex architectural sculpture by using digital technologies.
The installation responds as a statement of the limitless possibilities for generating new spatial articulations, as well as instigating ecologically meaningful actions.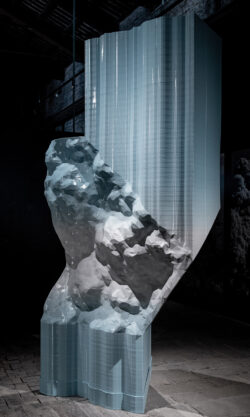 An expression of a radical vision of a new eco-innovative architecture.
'In order to have a true impact on the redefinition of future inhabitation, architecture must reinvent itself as a new discipline focusing on the construction of collaborative environments. Architecture, both in academia and in the profession, must strategically get in contact with the knowledge of boundaries that has been underestimated or even ignored until now. Together with Parley for the Oceans and Nagami, we are committed to a joint effort with the aim of showing a vision of how architecture can be designed and built in the future but in particular, of how architecture can become an instigator and activator of the circular economy. Plasticity is the avant-garde architectural example of what can be done with intercepted plastics from ocean cleaning activities'
— Niccolo Casas