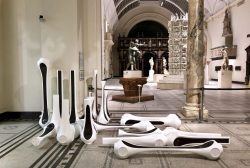 Nectary is a modular system able to create an infinite number of morphological variations.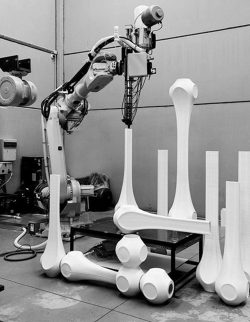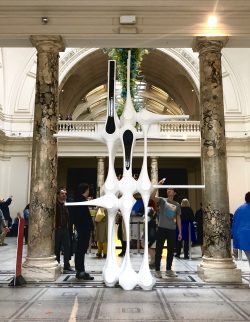 Nectary
Based on three different robotocally 3D printed elements, it can be assembled into a plethora of spaces of different features, incorporating variations in structural performance, lighting and shading, or privacy filtering.
Its design is capable to adapt to any enviroment following structurally driven combinatorial algorithms. Once the composition is generated, each element is digitally processed for being mannufactured by robotically 3D printing.
From furniture to Architecture, Nectary emerges as a three dimensional pattern where porosity and colour dynamically change to offer a unique spatial experience.
Nectary was designed by Manuel Jiménez García and manufactured by Nagami for Digital Design Weekend, an event celebrated at Victoria & Albert Museum in September 2018, where works and installations of many artists, designers, engineeres and technologists coexist and explore Artificial Intelligence, Design, Human-Machine Interaction and potential future worlds.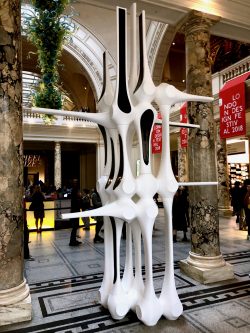 Credits
Designed by:
Manuel Jiménez García
Robotic 3D printing:
Nagami
Software developed with:
quadricular.ai
Exhibited at:
V&A London, Digital Design Weekend 2018
Design and fabrication team:
Manuel Jimenez Garcia
Ignacio Viguera
Miki Jimenez Garcia
David Rubin de Celix
Luis De la Parra
Vicente Soler
Installation team:
Roberto Garcia Velez
Alvaro Lopez
Christos Chatzakis
Daniel Gonzalez
Marina Dimopoulou
Man Nguyen
Ngai Wu
Han Hsun Hsieh
Daniel Rodriguez
Manuel Jimenez Garcia