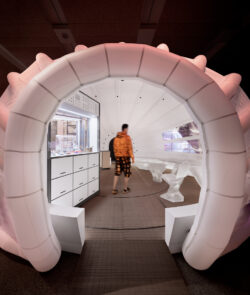 Moving To Mars
Step into a full-scale Mars home, immerse yourself in the untouched beauty of the landscape and learn how rethinking daily life for a zero-waste, clean energy-powered civilisation might help future generations on Earth.
Children born today are the first who might witness a human mission to Mars in their lifetime. It's one of humanity's great challenges and everything will need to be designed – but should we even be going?
The exhibition features immersive environments, about 200 objects including contributions from NASA, the European Space Agency and SpaceX; NASA's 3D-Printed Mars Habitat Challenge winners, AI SpaceFactory; robotic builders by Foster & Partners; the first sustainable urban design for Mars, Mars City Design; the first spacesuit designed for the Mars surface.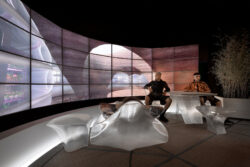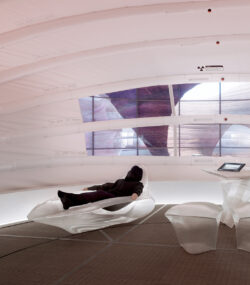 Airchaise
Airchaise was designed when speculating about the future of furniture for humans living in Mars. The project's main intention was to establish a digital production workflow using spacecraft recycled plastics, leading to a familiar and comfortable solution for the astronauts' life. This challenging idea comes to reality with
the Airchaise. Its soft and ergonomic lines created by computer-generated structural principles favour resting in today's homes,
stating that the future is indeed now.
Co-authors: Nagami and Hassell Studio
Photo: Studio Naaro