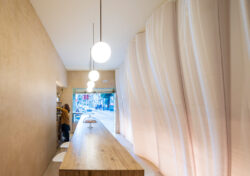 Uniqueness and exclusivity for a local shop
La Tarta de la Madre de Cris
Located in the emblematic Plaza del Salvador in Seville, La Tarta de la Madre de Cris combines gastronomy and sustainability to create a unique atmosphere, where one can enjoy the simplicity of one of the best homemade cheesecakes. 
As natural as the local product. This small space dedicated to a local shop selling cheesecake differentiates its business in an incomparable way, personalizing its premises with an interior mural inspired by the materiality of the cheese itself, which manages to provide continuity and a unique personality to this small longitudinal space. 
A 3D printed wall composed of curved folded geometries. From the outside, the mural becomes brighter and more golden, while on entering the interior the materiality becomes more solid and white. A gradient of pigments allows for backlighting, becoming more translucent at the bottom, becoming a perception of changing colors and textures.