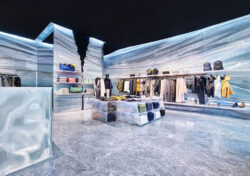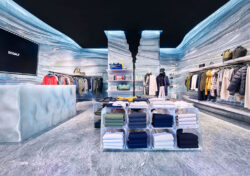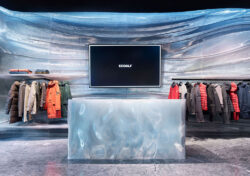 Designed to raise awareness and inspire change.
Under the purpose of carrying out a carbon footprint neutral project that maximizes the recycling plastic processes, Nagami and Ecoalf join forces to develop the major 3D printing project to date, designing hand by hand to generate an impact that inspires change in the architecture industry.
Project description
Essentially inspired by the visual effect of a glacier that is cracking and melting in consequence of global warming, the installation wraps around 90 m2 space and turns into an almost immersive experience. Printed from 100% recycled plastics and paying attention to every detail, the interior space is covered by one single layer that combines the functional necessities of the store -becoming the furniture required in a clothing shop- as well as characterizes the space and transmit continuity.
Sustainability
A second life to more than 3 tonnes of disposable plastics
Produced only 100 km away from the store, the project provides a second life to 3.3 tons of disposable plastics as well as reflects the countless capacities offered by the combination of computational design and 3D printing, A demonstration of the possibility of developing a cleaner, more sustainable and flexible local production chain.