ECOALF'S NEW STORE RECYCLES 3.3 TONNES OF PLASTIC THROUGH 3D PRINTING 
DESIGNED TO RAISE AWARENESS & INSPIRE CHANGE
Ecoalf has teamed up with Nagami design studio which brings 3D printing to large-scale products to create a new installation that represents the melting of our poles for their new store in Las Rozas Village. 
Hundreds of tonnes of plastic are produced daily, and this material lives on for centuries, polluting our planet. Following Ecoalf's values of innovation, design, and sustainability, the interior is completely printed from 100% recycled plastic using the latest 3D technology to replicate a melting glacier. The walls, shelves, and display tables are made from recycled plastic, giving a second life to 3.3 tonnes of plastic. All the elements have been produced in Spain to reduce CO2 emissions and the entire space is recyclable at the end of its lifecycle. The installation wraps around the 90 m2 space and will be used to display Ecoalf's top-quality garments, accessories, and footwear all made from recycled and low-impact materials.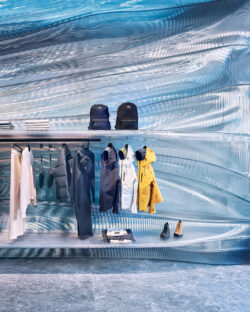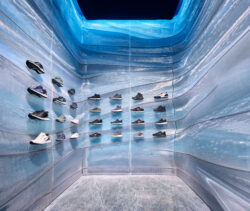 BEING PART OF THE SOLUTION
Over the past 50 years, temperatures have increased across the Antarctic peninsula five times the average of the rest of the planet and 75% of all areas covered by glaciers have melted due to rising temperatures. If we go beyond 1.5 ºC glaciers will disappear, sea levels will continue to rise, coral reefs will decline while storms, wildfires, and droughts will become more severe.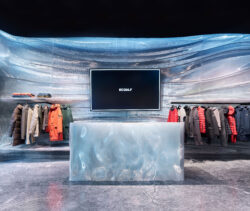 "We love to collaborate with those who share our values and vision, and NAGAMI is at the forefront of sustainable architecture. This project brings together design and technology to raise awareness about climate change and inspire a real change."
– Javier Goyeneche, Founder and President of Ecoalf.
"We urgently need to rethink the way we produce and consume to provoke a real change in the industry. Today, 3D printing allows us to bring to life spaces the before were unimaginable, produced locally not only by using recycled materials, but establishing production chains that are cleaners, more sustainable and flexible. And this is already a reality."
-Manuel Jiménez García, Co-Founder & CEO of Nagami