Robotica TM takes form at the convergence of two fields – botany and robotics – to coin a new approach to design that crystallises the natural programming in nature with that of robotics within artificial manufacturing.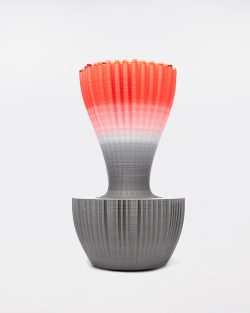 Design
The design is of a high stool that has 360 degree formal access.
Thus the aesthetic being non-directional implies an adaptation of the typology away from furniture and into a new territory of the stand-alone aesthetic object whereby its function is not immediately intelligible.
But there is, in fact, no compromise in its function which despite its ambiguity can perform as a table for placing food on as taken out of the oven as the silicon inserts are heatproof, as a plinth for a sculpture -TV or any manner of ancillary needs within a home.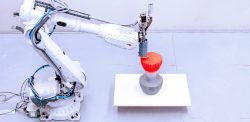 Process
The Robotic, polymer dispensing arm allows for a vertical layup, stepping outward or inward to create gradual form deposition.
I have responded to this with an economic vertical structure that rationalises the time versus material versus fusion equation.
Built from a rotational geometry this equation is very effective and facilitates the fusion building of a highly efficient structure akin to natural own estate solutions.
Objective
In working with Nagami I have aimed to start a path towards the creation of unique variable objects-furniture that enrich our space and are competitive on price with the products of established, elegant and distinguished furniture brands.
It's a new category that is slightly above the norm in the price of Italian furniture but way below the price in the field of Design Art; a place not restrained by conventional taste and free to explore without extensive capital investment a serious new positioning for manufacture in the field.
Robotica TM
X Ross Lovegrove
SOLD OUT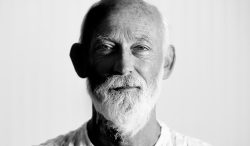 Ross Lovegrove
Ross Lovegrove is a designer and visionary who's work is considered to be at the very apex of stimulating a profound change in the physicality of our three-dimensional world.
Inspired by the logic and beauty of nature his designs possess a trinity between technology, materials science and intelligent organic form, creating what many industrial leaders see as the new aesthetic expression for the 21st Century.
There is always embedded a deeply human and resourceful approach in his designs, which project an optimism, and innovative vitality in everything he touches from cameras to cars to trains, aviation and architecture.